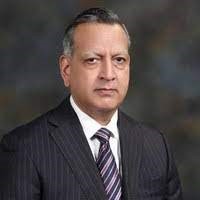 Dr Suddle has over 30 years of experience in law enforcement, anti-corruption, and justice sector modernization and capacity building. He has served in federal and provincial public organizations dealing with white-collar crime, economic crime agencies, such as Director Economic Crime, Federal Investigation Agency, Federal Tax Ombudsman of Pakistan, Director General of Intelligence Bureau, Director General of Bureau of Police Research and Development, Ministry of Interior. As head of some of these organizations, he gained hands-on experience in dealing with intricate public policy, extradition and institutional reform issues, financial crimes committed nationally, regionally, and internationally, institutional overhauling for efficiency and effectiveness, systemic reforms, including the landmark replacement of the anachronistic 1861 Police Act with the Police Order 2002. Dr. Suddle has published extensively and is the most highly decorated veteran public servant in Pakistan. In recognition of his exemplary services, he is the recipient of top national awards of Hilal-e-Shujaat, Hilal-e-Imtiaz, Quaid-e-Azam Police Medal, and President Police Medal. He is a PhD in white-collar crime and alum of the University of Cardiff, UK. 
He is leading multiple organizations and government initiatives, such as:
One-Man Commission on Minority Rights, appointed by the Supreme Court of Pakistan (since 2019)
Expert, Global Initiative against Transnational Organised Crime, Geneva (since 2017)
Director and Senior Fellow at the Global Think Tank Network, Islamabad (since 2017).
Pakistan Institute of Legislative Development and Transparency (PILDAT)'s Committee of Experts on Rule of Law, and the Steering Committee for the Assessment of the Quality of Governance in Pakistan (since 2016).
Strategic Advisor to Centre for Research on Security Studies (CRSS), Islamabad, and chair of the FCO-sponsored Track II/1.5 Beyond Boundaries Dialogue between Pakistan and Afghanistan (since 2015).
Advisor to Turkish National Police (2004-2008)
Visiting Expert, United Nations Asia and Far East Institute (UNAFEI) on Crime Prevention and Treatment of Offenders, Tokyo (since 1993)
International Director at the Asia Crime Prevention Foundation, Tokyo (since 1993)