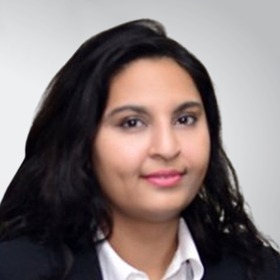 Dr Nudrat E. Piracha, Partner, in a career stretching over seventeen years, has worked as counsel in ADR, in arbitrations, before ICSID, ICC, SCC, Ad Hoc tribunals, and rose to partnership at Samdani & Qureshi. She is a Solicitor of England and Wales besides being a Member of the High Court Bar with audience rights in civil matters up to the Supreme Court of the United Kingdom. She was nominated to the panel of arbitrators of ICSID by Pakistan in 2018 and has served as a member of an Ad Hoc Committee of ICSID. She is presently serving as a member of the twelve-member committee constituted by the Prime Minister for consideration of Pakistan's investment legal framework.
Dr Piracha is a Fulbright scholar, a Weinstein JAMS International Fellow for 2018, and the first lawyer from Pakistan to become a Fellow of the Chartered Institute of Arbitrators, UK (FCIArb). She is a graduate of the London School of Economics and Political Science. She is the first woman from Pakistan to have been awarded a Doctorate in Juridical Sciences (S.J.D.) by the George Washington University, Washington D.C. She has extensive experience and training in ADR, mediation, negotiation, and arbitrations from most prestigious universities and organizations. As a senior fellow of JAMs, she has been trained and has attended mediations at JAMS with their panelists in relation to commercial and employment disputes
Mr. Qureshi, the Managing Partner of Samdani & Qureshi in Islamabad and Turkey, specializes in project finance, securitization, corporate, constitutional, arbitration, human resource policies, public private partnerships and advisory work. He is also a specialist in construction/engineering and public private partnership contracts and has been actively involved in rendering legal advice and assistance in matters pertaining to construction/engineering and public private partnerships disputes and has conducted major arbitrations in this area of the law. Mr. Qureshi has been involved in international arbitrations before the International Chamber of Commerce, Paris and the International Centre for Settlement of Investment Disputes ("ICSID"), Washington and is presently engaged in ICC and ICSID arbitrations. Mr. Qureshi has acted as counsel to the Government of Pakistan in the transactions pertaining to the issuance of Floating Rate Notes and the securitization of receivables by the Pakistan Telecommunication Company Limited.